Enjoyably experienced: family and team
Place your full trust into Hotel Ratz for a pleasant and relaxing stay. The hotel has been
family-run since 1936
… initially by Sonja Cramer's parents Kunigunde and Alfred Geiges.
In 1997, Ed Schneider and Sonja Cramer took over – now providing their guests with all
care and friendliness
. Sonja Cramer's CV reveals a tell-tale history:
Employment in a star-prized restaurant in Freiburg / Black Forest, Germany
Long-term hotel employments in France and England
Director's secretary and Food & Beverage Assistant at the five-star-hotel Euler, Basel, Switzerland
Director of an Accor hotel in Aachen, Germany…
… to name just a few. High quality service for
every guest individually will be implemented
by the 12-member-staff of Hotel Ratz.
Hotel Ratz staff members were selected for their professional competence as well as their
heartfelt enthusiasm
when attending to our guests.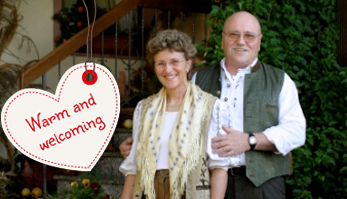 Hospitality with
heart

has a home

: Ratz

Lovable, genuine, down to earth and yet Pfiffig -

it

is the

hospitality

of Baden

!


In hardly any

other hotel

between Wertheim and Konstanz y

ou

will

feel it

more

than

a guest

at the Hotel

Landgasthof

Ratz

.

Once you was have stayed there, you will the polite sincerity of the people in southwest Germany will appreciate...and

always happy

to return

to

their friendly

,

attentive

host. "Please feel well and welcome "

-

this is the philosophy

that is lived

in the

Ratz

- regardless of the

rooms

The Hotel Landgasthof Ratz, where the owners personally care about you, 

that your

wishes will be

fulfilled

:

whether

in the kitchen

,

at the

check-in,

breakfast

and evening

service

,

your

entertainment,

the

shuttle

service